Due to some mix up of some sort, I didn't get the page in color yet, so it's posted in black and white until I do!
A couple things…
-I mentioned last post that I might be going to posting a weekly page instead of two pages a week.  It has been decided.  I'm going to just do one page per week, every Wednesday from now on.  This comic doesn't pay the bills, I need to focus on stuff that does for a while.
-Doug TenNapel has had this "Nnewts" idea kicking around in his head for 15 years.  It's the coolest thing he has made and he never makes a book because he is afraid it's not marketable.  So the other day I told him he should just make it a web comic and post one page a week.  That's easy, and he can do other stuff on top of it.  He liked the idea, and he did it.  Check out Nnewts!

–This Ocotobear piece is still up for bidding, and right now it's cheap!  It's a mix of charcoal, sumi ink, conte and other mediums, and it's a nice sized 18 x 24 drawing.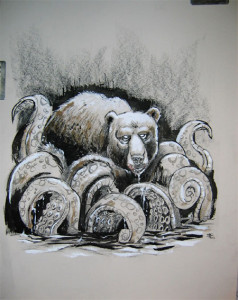 -This Wexter and Axe Cop piece is also still being auctioned as well!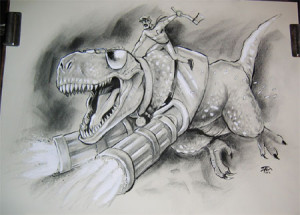 Get a better look at these on the auctions page.
-also, if you happen to really want a commission, and are willing to spend some money, contact me at info (at) bearmageddon dot com.  I will probably do some commissions on the side if the price is right. I'm looking for ways to bring some extra cash in right now, so take advantage of me while I'm vulnerable!
That's that.  See you on Wednesday!  Thanks for being a patient and understanding audience.  I love making this comic!
Ethan