Page 59 – Hijinx
on
March 2, 2012
at
9:00 am
Before you do anything else, go bid on my octo-bear ink illustration over on eBay!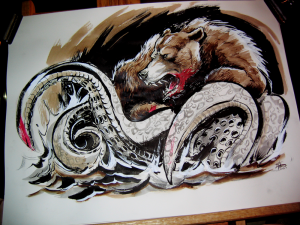 This auction closes on Saturday.  It is 18″ x 24″ which is a rare, large size for me to do.  I very rarely do original art and when I do it is never this big.  Of course I am experimenting right now to see if it is worth it to take a little time to make and sell original art to make some extra income.  I guess we will find out with how these auctions go.
Thanks for reading, we'll be back Wednesday.
Ethan