The battle with the bear mole continues, and every page is a labor of love. Speaking of love, I love Kailey's colors. She is killing it.
This scene has been a bit of a chore, but in a good way. I just really wanted my bear mole to feel real.  So, for instance, I rough-photoshopped a star nose onto a bear for reference
I also wanted to get my perspective right on that splash page a couple weeks ago, so I used trusty ol' sketchup to set up my scene and pose some crude 3d models so I could figure out where the feet and arms should go, then I rammed a bear into the floor.
I also was having a tough time getting that angle believable in the second-to-last panel on today's page where Dickinson is holding a spear in the bear's mouth.  For reference, I snapped some picks of a toy bear with a pencil in its mouth.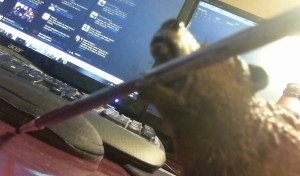 Of course I had to add claws and a star nose.
Just a little behind the scenes to show you I am not nearly as competent an artist some of you may think.  I still have to cheat quite a bit, but for the effect it is worth it.
Ethan